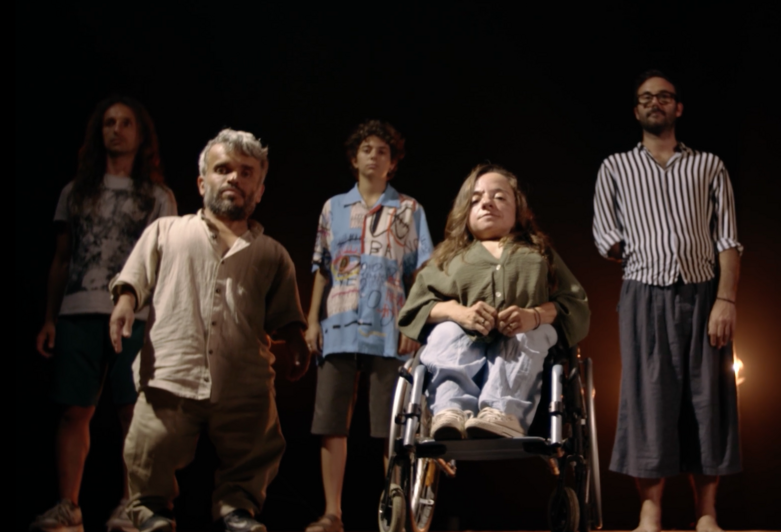 Accessibility at the Gender Bender Festival
Take a look at the accessible-friendly events at the Gender Bender Festival 2023
Gender Bender explores the variety of bodies and the differences between them, as well as their individual life experiences, since its inception, and it does so through the artistic languages and theoretical and practical training on which each experimental and learning journey is based. For some years now we have been working on the accessibility of our events and means of communication. The goal is to get to the point where everyone can enjoy art and culture in a satisfying way.
There are many improvements to be made, often structural in nature. This is why we want to undertake a long-term project to come up with concrete instruments and proposals.
For this reason, again this year we collaborated with Al.Di.Qua. Artists (an acronym for Alternative Disability Quality Artists), an association for artists with disabilities. In particular, this collaboration was possible thanks to the guidance of Elia Zeno Covolan, and trainings with Diana Anselmo and Giuseppe Comuniello.
For this edition we are working to:
Give information on accessibility (or non-accessibility) aspects of spaces and events: you will find accessibility icons for each event in the full program on the website.
Where possible, we have simplified the program text in terms of content, drafting, and layout to make it easier to read and understand.
Eight of the festival events were made accessible to the deaf audience through Italian sign language interpretation.
2 performances of Aristide Rontini's play Lampyris Noctiluca will be accompanied by a poetic audio description in order to be accessible to blind and visually impaired audiences. We also remind you that poetic audio description can also be requested by non-blind or visually impaired audience to experience the performance.
Accessibility is a goal of ours not only for the audience but also on the stage and in the production steps of the festival, which is why artists and workers with disabilities will be participating in this edition as well.
We have collaborated together with other organizations and partners who are committed to accessibility. We welcomed with gratitude and as a source of enrichment all suggestions to improve and make our festival more accessible. We therefore thank, alongside Al.Di.Qua Artists, Sim Marchesini, ENS Emilia-Romagna, ENS Bologna, Bar Senza Nome, Cooperativa Accaparlante, Gruppo Elettrogeno, and the Lovegiver Committee.
We believe that culture and art are opportunities to create spaces for dialogue and discussion, which is why it is necessary, for anyone who wishes to do so, to have the opportunity to participate in building a society that is more aware, open and respectful of all differences.
The Gender Bender team
Take a look at the accessible-friendly events:
Autoritratto in 3 atti. Lecture-performance by Diana Anselmo. With interpretation in Italian Sign Language.
Che brava che sei! 8 storie di abilismo quotidiano. Presentation of the book by Elena Paolini and Maria Chiara Paolini (aka Witty Wheels) in conversation with Aristide Rontini. With interpretation in Italian sign language.
All films are shown in original version (excluding those in Italian) with subtitles.