Al cosmo
From 5pm to 11pm
free entry and exit at any time

Full ensemble reading of Tra le rose e le viole. La storia e le storie di travestiti e transessuali (Between roses and violet. The history and the stories of transvestite and transsexual people) by Porpora Marcasciano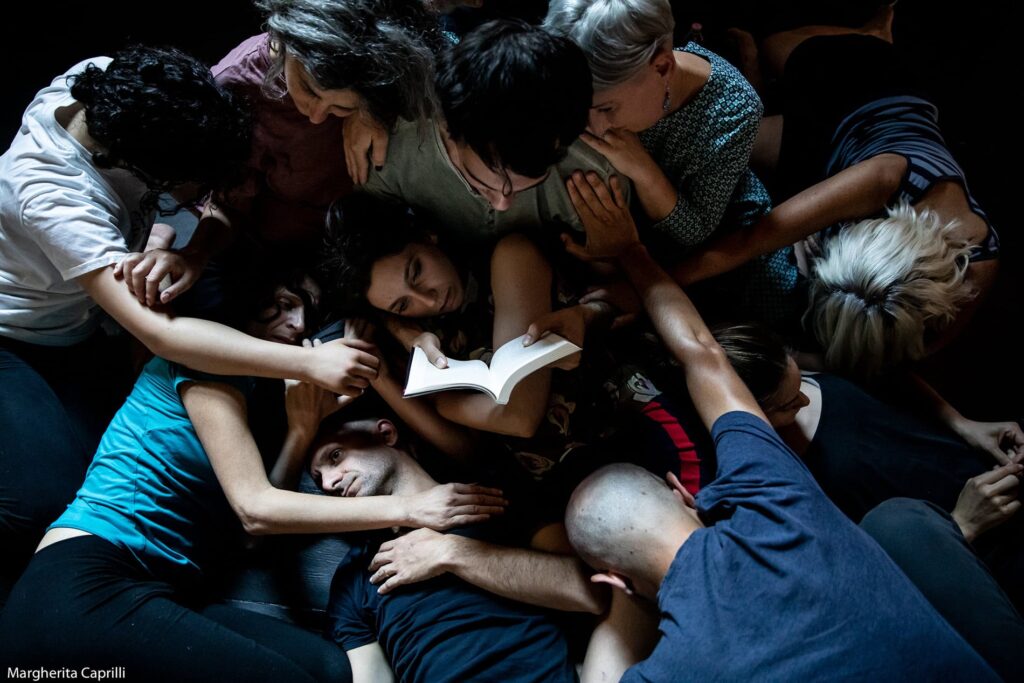 Choral reading of the book Tra le rose e le viole by Porpora Marcasciano, Italian transgender writer and historical activist. Marcasciano starts with herself and her comrades to talk about and, in this way pass on, the history of individual and collective struggles, of those movements that make claims for rights, in a work that features interviews and memoirs, irony and social criticism. The reading session is led by Fiorenza Menni, actress and author, and it is the result of a series of group workshop sessions. During the reading session, the audience will be able to move freely, rest while listening, and stop wherever and whenever they want.

During the reading, between the first chapters of the book, there will be a talk by Porpora Marcasciano, author of the book.
Ateliersi
Ateliersi is an organisation that works in the field of performing and theatrical arts, dealing with artistic creation and curating the cultural programming of Atelier Sì in Bologna. Ateliersi's artistic creation consists of theatrical works with original dramaturgy and artistic interventions in which the performative gesture enters into organic dialogue with anthropology, literature, musical production and the visual arts. An anthropological approach to art characterised by an attraction for otherness, a predilection for cultural evolution as an object of study, the development of the contextual dimension and the experimentation of interdisciplinary practices.
Fiorenza Menni is an actress and theatre author. Her writing is aimed at creating an original dramaturgy, the result of constant research into content and form on the basis of philosophical studies and reflections in the field of art. Together with Andrea Mochi Sismondi, he creates plays for Ateliersi. She is involved in actor training by proposing work paths that tend to train the contextual and sentimental precision of interpretation using the materials of her own path and research.
Porpora Marcasciano is a militant activist in liberation movements from the 1970s to the present. Among the founders of the MIT (Trans Identity Movement) of which she is Honorary President. Sociologist, writer, storyteller. She has published Tra le rose e le viole, la storia e le storie di travestiti e transessuali, Manifestolibri (2002) and reprinted with Alegre Ed. 2020; Favolose Narranti, storie di transessuali, Manifestolibri (2008); Elementi di Critica Trans, Manifestolibri (2010); Antologaia, vivere sognando e non sognare di vivere, i miei anni settanta, Alegre (2016); L'aurora delle trans cattive storie sguardi e vissuti della mia generazione transgender, Alegre Ed. (2018). She has also participated in several collective publications on the topic of gender identity.
AN EVENT BY
fiorenza menni
WITH
Alberto Arista, Simona Barilari, Marica Bisacchi, Simona Brighetti, Alessandro Cafiso, Eugenia Delbue, Monica Garuti, Andrea Gazzoni, Margherita Kay Budillon, Andrea Alessandro La Bozzetta, Francesca Lico, Caterina Miglietta, Laura Pizzirani, Emilio Ricciardi, Luce Santambrogio, Emilia Verginelli

WITH THE SUPPORT OF
fondazione del monte di bologna e ravenna
IN COLLABORATION WITH
alchemilla
IN THE CONTEXT OF
PATTO PER LA LETTURA BOLOGNA E DEL PROGETTO APRENDO LA PORTA. UN PERCORSO LETTERARIO NELLA VITA DELLE DONNE
Find out about the other events